Report: Making Rail Work Proposal
"A community's proposal for the re-introduction of an intercity passenger rail link to Tauranga."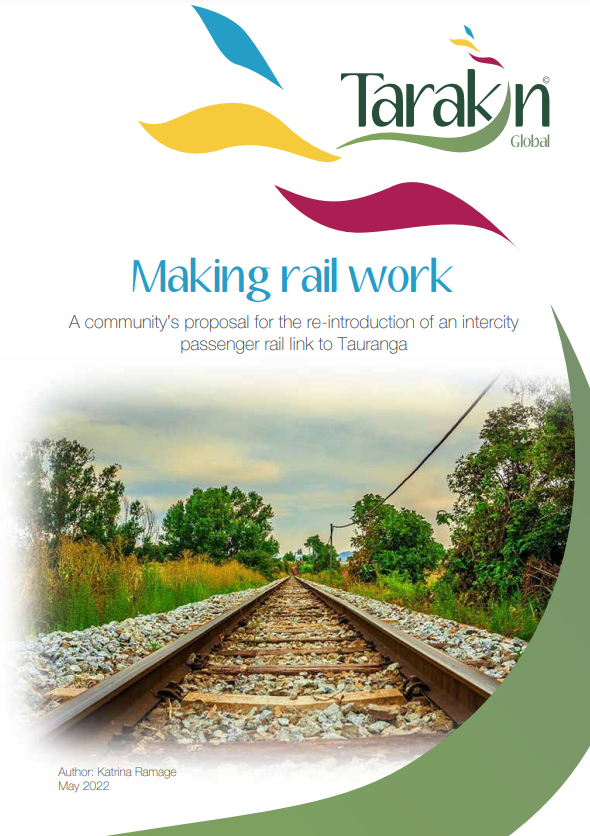 We moved from Glasgow to the south-west coast of Scotland when I was in primary school. I didn't fit in but my parents and brothers were happier than they had been in the city. I was bullied a lot and over the years suffered more than a few incidents that left me feeling trapped and frightened.
The first time I took a train timetable from Prestwick Town Station I was just intent on figuring out how to get back to Glasgow, to my extended family. But the map went all the way to Edinburgh, Aberdeen, Inverness, Preston, Manchester, Birmingham, Bristol and London.
Just looking at it helped me escape my daily traumas, it helped me dream big dreams, as a misplaced child in a small-minded community. It helped me focus on my studies so I could make a new life somewhere, anywhere, else.
Today I have friends in all of those cities and across the world. I've lived or worked in some of the most amazing places on the planet. With the internal drive I found from staring at that rail map, I have managed to work in some of the highest offices, politically and corporately, in Western Europe. 
I helped bring the Olympic Games to London as part of the Bid team, and supported the ODA with establishments and delivery. I even got to work with Andrew McNaughton to help set up the High Speed 2 organisation, which is introducing domestic high-speed rail in the UK. On top of that, I am Global Ambassador for World Values Day, where I works with small communities in over 100 countries and help them tell their stories to the G20 leaders' forums.
So, when Heidi Hughes asked me to put my mind to why we do not have a passenger rail line to Tauranga, I jumped in with both feet. Tamariki and rangatahi from all walks of life, across the motu, deserve to feel the same kind of wonder and possibility that I did when I was a child.
We secured funding from BayTrust and I read everything I could about rail in Aotearoa and used all of my knowledge of government processes to write 'Making Rail Work'. I spoke to everyone who would listen, online and offline. This is the country I choose to call home. It is the first place where I have felt safe and nurtured whole-heartedly.
New Zealand is considered the cul-de-sac of the world, which is ideal for me now that I want to settle down. But I don't doubt that our internet generations will feel more trapped than I did as a child without realistic pathways to engage and embrace the world beyond.
Inter-regional rail creates the skeleton of opportunity and hope, and it has wider domestic and international economic benefits as well. However, my personal focus will always be about empowering and raising the attainment levels of those in closed-off communities who feel out of place, regardless of what age they might be.
The Making Rail Work community proposal is the first leg of this journey…
Request a briefing with Katrina: